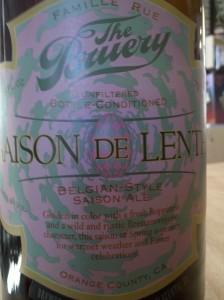 This seasonal offering by The Bruery (Placienta, CA) makes its first appearance in Atlanta.  Saison De Lente is a farmhouse/saison that is both refreshing and light.  Brewed with the wild yeast Brettanomyces, extra hops are added this saison for balanced character.  Those of you who have had Saison Rue, there are some similarities, but with slightly less alcohol and lighter in body.
In tasting, note citrus, fruits, funk from the Brett yeast, and some tart.  Some lemon, and spiciness from flavors like clove or cardamom.   Saison is light and easy drinking, perfect for the coming spring.
Saison De Lente is offered seasonally, in 750ml champagne bottles, and limited draft offerings.  Estimated retail – 8.99 a bottle.
All beer offerings by The Bruery are unfiltered, unpasteurized, and bottle-conditioned.
Tap Sightings coming soon .
6.5% ABV