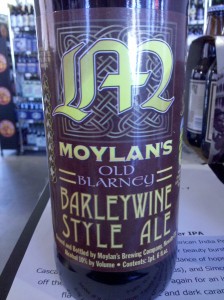 From the brewer's that brought you Hopsickle, comes another full bodied beer – Old Blarney Barleywine.  This is the first time Moylan's award winning BW has made it to the Atlanta market.  Expect strong flavors of alcohol, with some caramel malt backbone.  Hops are citrusy, some pine, with some bitter in the finish.
Here is the ingredient rundown –
Hops – Yakima Chinook, Yakima Glacier
Malts – American 2-Row, Crystal Malt 45L, Munich Malt, Caravienna Malt, Special B, Acidulated Malt.
10% ABV
62 IBU (International Bitterness Units) Hopsickle is over 100 IBU…
I keep reiterating that unless you are home brewer, or really beer hardcore, those ingredients might not mean a lot to you.   However, as you try beers keeping in mind the different hops and malts gives you a better understanding of how these change the taste.  It's very easy to get to know what you are drinking without having to read about it all day.  Hey, that's what I'm here for!