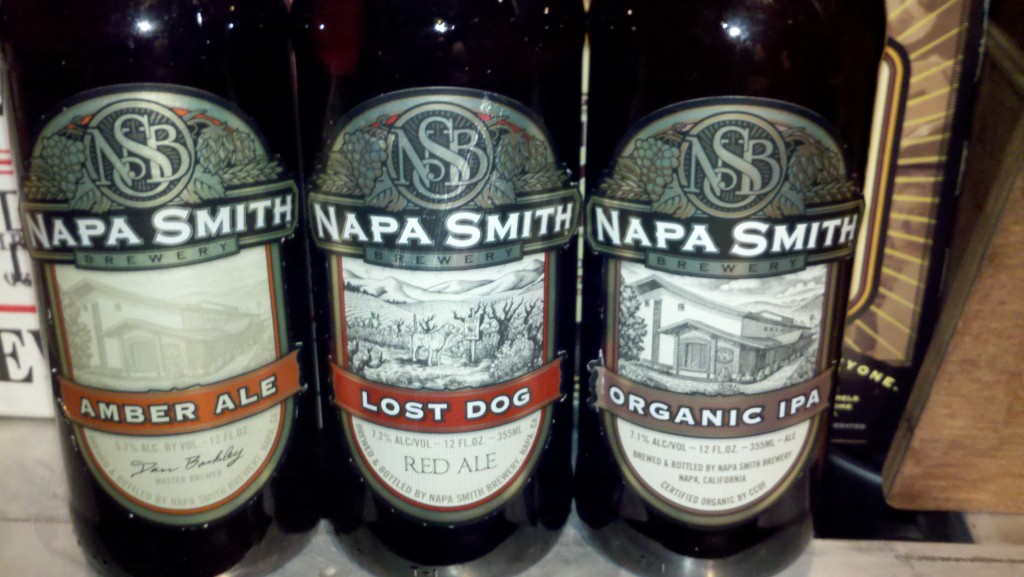 Now available in Atlanta are beers from Napa Smith Brewery in Napa, California.  The launch brings 3 beers in tow, one of them a hoppy certified organic IPA.
History:
Life is meant to be experienced to the fullest, and that means the constant search for new and better things: whether it is the perfect wave, a newly discovered forest, a secret trout stream, a Montana sunset, or whatever you want it to be.  It is about having great meals with good friends, and having a party.  It is about having fun.
The Smith family loves life.  We decided that what the world really needed was a great beer that makes food taste better.  A beer that you can be proud to serve at dinner with friends and family.
We set out to make a beer that paired well with all food types.  We asked ourselves the age old question, "What wine do you serve with shrimp?", and came up with the answer.  "You don't serve wine with shrimp; you serve BEER with shrimp, because it tastes great with them."  So we got to thinking that we should make beers that not only taste great all by themselves, but go with a variety of foods as well. We also believe in cooking with beer, just like wines offer flavors and textures to sauces, beer can do the same thing.
We wanted to make a family of beers that you can enjoy on a fishing trip with your friends, your next football party, or can serve on a linen table cloth at a black tie affair.  After much experimentation (and a lot of tasting), we have come up with beers that meet these challenges.
We are dedicated to producing the highest quality beer  in the craft brewing industry, and are insistent on using only the finest ingredients to assure this.
We were aware of the challenge that we were taking on when we used the word "Napa" in the name of the brewery.  The Napa Valley has developed a well deserved reputation for producing fine wine; and a lot of hard work, artistry and craftsmanship has gone into the development of that reputation.  We are committed to producing a beer that is worthy of the Napa reputation for fine food and beverages.
The Napa Smith Brewery was able to woo Don Barkley, a Master Brewer with over 30 years experience in the craft brewing industry, to join us in our undertaking.  Don joined us because he too believed in the concept,that beer should pair well with food, and shared in the dream of turning the concept into a reality.
Napa Smith is owned and operated by family and friends, only.   Our sons and daughters work daily to bring you this fine line of beers.  You can talk to any one of us, at any time, and, should you decide to visit us at the Brewery, we will gladly drop what we are doing and show you around
We hope that you will try our beers and enjoy them as we do.  Please remember, always drink responsibly, and let moderation be your guide.
Launch Beers:
Amber Ale – 5.75% ABV.  Lots of caramel malt in this amber.  It's definitely malt forward.  Bready, some grassy hops.
Lost Dog – Red Ale, 7.2% ABV.  Some fruity sweetness.  Flavors of caramel & vanilla appear, followed by some light citrus hops.
Organic IPA – 7.1% ABV.   Hops are piney.  Also perhaps some light citrus.  Malts – caramel, even some toffeee. A balanced American IPA.
Availability: 12 oz bottles.  Future draft offerings..