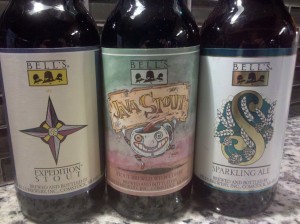 As you may know by now, Bell's has been in Georgia since May.   Since the initial launch, beers from Bell's vast lineup have been trickling into the city.  The most recent was Two Hearted Ale IPA a couple of weeks ago.  Now there are 3 more on the shelves.
Expedition Stout — Imperial Stout, 10.5% ABV.   Chocolate and coffee notes.  Caramel  also noted in tastings.  Roasted Malts.  Alcohol is slightly notable as it is 10.5%.  Complex taste.  Suitable for cellaring. Availability — November through April.
Java Stout — Stout, 7.5% ABV.   Stout with Sumatra coffee beans.  Chocolate and roasted malts.  Availability — January 1st through January.
Sparkling Ale — American Tripel, 9% ABV.  Sparkling Ale is a beer "glass of bubbly."  Fruity in flavor, even citrusy.  Lots of carbonation, almost champagne like.  Availability — November 1st through November.
FUN FACT!!
Each bottle of Bell's Beer has a batch number on the back.   You can input that number on the bells website and it will tell you when that beer was bottled, and some info about it.   Here — try it for yourself here is a batch number — 9459.  Go to www.bellsbeer.com
Hop City  – All in stock
Tower — Researching…
Total Wine — Not yet
Greens — Expedition Stout in stock.