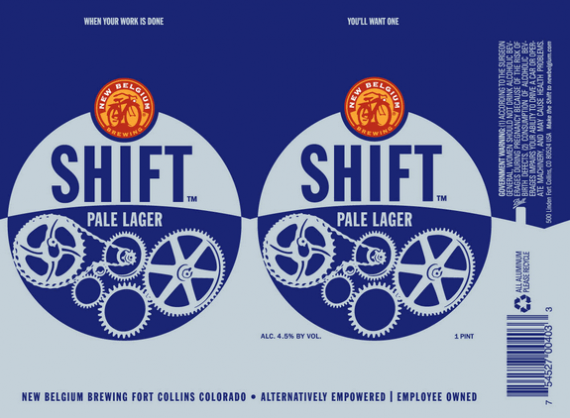 New Belgium Brewing has officially announced the release of Shift Pale Lager.  The beer will be a year round, 16 oz tallboy offering.   This comes just a day after announcing that their new canning line was fully operational.
Cool Stuff
The 4 pack cans, and the packaging are 100% recyclable.  The name comes from New Belgium's tradition of sharing a shift beer at the end of the day to celebrate a job well done.  The brewery has also created a phone app that will allow you to announce a "clock-out" to friends on Facebook & Twitter. (aka – it's beer time!)   New Belgium's Facebook fans can also invite friends to have a Shift Beer and win weekly gear or a local Shift party (www.facebook.com/NewBelgium.
Flavor
Shift is brewed with Nelson Sauvin hops, giving the lager a fruity, citrus flavor.
"We're excited to put a New Belgium twist on pale lager," said New Belgium spokesperson Bryan Simpson. "The 16-ounce can is the perfect delivery system for this beer and it travels well."
Style: Lager
Availability: 16 oz cans.
Region:  Brewery is aiming at all markets in which they distribute.