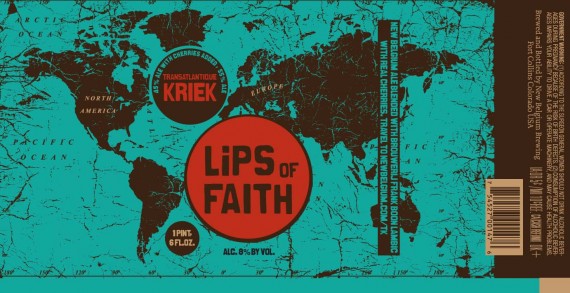 Before the end of the year, New Belgium's Transatlantique Kriek should return to the Lips Of Faith series according to a local NB rep.  The beer is a Belgian-American collaboration with Brouwerij Boon.
Transatlantique is a spontaneously fermented lambic beer made with Polish cherries. Frank Boon created this lambic nearly 2 years ago, and it has been sitting in oak since in Lembeek, Belgium.  Soon, New Belgium will organize shipping and bring it across the Atlantic.  New Belgium's brewmaster Peter Bouckaert will blend it with a golden lager creating the final product.  If all goes well, it should hit shelves before year's end.
Style: Kriek (Cherries, Oak Aged)
Hops: Willamette
Malts: Pale, Red Wheat, Carapils, Roasted Barley
Arrival: Late 2012
8% ABV, 8 IBUs (low bitter)
note: The above is tentative.  Subject to change at whim of the brewer, the beer, or the barrel.