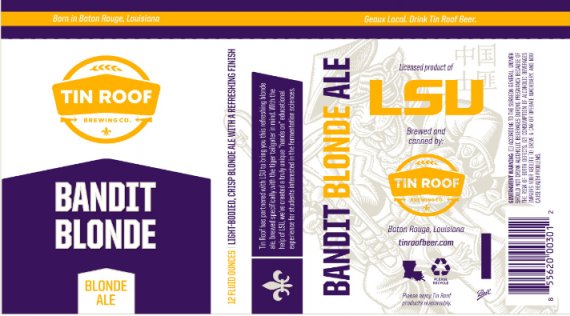 UPDATE 8/18, 3 pm:  LSU states name "Bandit Blond" is not official, as it has not been "signed off" on it yet.
Louisiana State University announced in July that they were collaborating with Tin Roof Brewing to create a LSU branded beer.  The beer will be brewed by students as a part of a fermentation sciences program, canned by Tin Roof (canning line has JUST been installed), and sold at football games.
The beer now has a name "Bandit Blonde."
Label: 
Tin Roof has partnered with LSU to bring you this refreshing blonde ale, brewed specifically with the tiger tailgater in mind.  With the help of LSU, we've created a truly unique "hands on" educational experience for students interested in the fermentation sciences.  
 Style: American Blonde Ale
Availability:  LSU football games, retail near university
?? ABV
Geaux Local.   Drink Tin Roof Beer