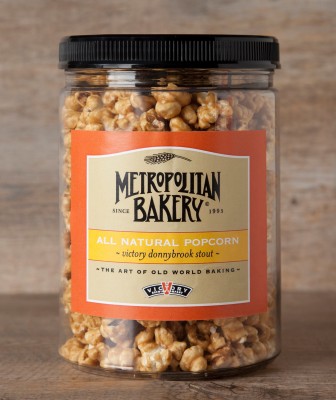 Christmas and Hanukkah are looming. You need gifts for your beer loving friends. How about some Victory Donnybrook Stout Popcorn?  Victory Brewing's Bill Covaleski and  Metropolitan Bakery have teamed up to make beer popcorn.
This new small-batch popcorn features the smoky, malty undertones of Victory's Donnybrook Stout, a European style ale made with whole flower hops and roasted barley. Mixed with salty caramel and freshly popped popcorn, and then baked in thin layers for extra crispness, the result is an intense, not-too-sweet holiday treat, perfect for gift giving.
A tub will run you $9.95 before shipping.  Other boozy corn flavors include Bourbon Infused, and Stout w/ Almonds.  All are available online and in Metropolitan Bakery shops. The Victory Donnybrook Stout popcorn can also be purchased at the Victory Brewing Company brewpub and retail store at 420 Acorn Lane in Downingtown, Pa. 19335.
[MetropolitanBakery, Victory Brewing]
This isn't the first beer-food crossover for Victory.  They also do ice cream.