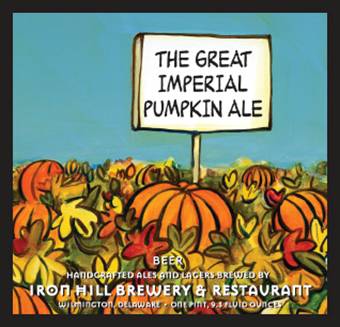 Iron Hill Brewery & Restaurant will be debuting The Great Imperial Pumpkin Ale on September 23rd.
 From Iron Hill: 
The Great Imperial Pumpkin Ale was brewed with more than 200 pounds of Crookneck pumpkins from Lancaster, PA, as well as pumpkin pie spices, molasses and Belgian candi sugar, giving it a rich flavor and heady aroma, evocative of all things fall.
"We think of this beer as a big brother to our popular Pumpkin Ale," says Iron Hill Director of Brewing Operations, Mark Edelson. "It's fuller bodied and more intensely flavorful — perfect for drinking on its own on a crisp autumn afternoon or pairing with the season's heartier dishes."
The Great Imperial Pumpkin Ale will feature a custom-designed label from local artist Jeff Schaller.  Note the Peanuts theme.  Schaller also does the wall murals at the various Iron Hill locations.
Style: Pumpkin Ale
Availability: 750ml Bottles, Corked & Caged.  All 8 Iron Hill locations.