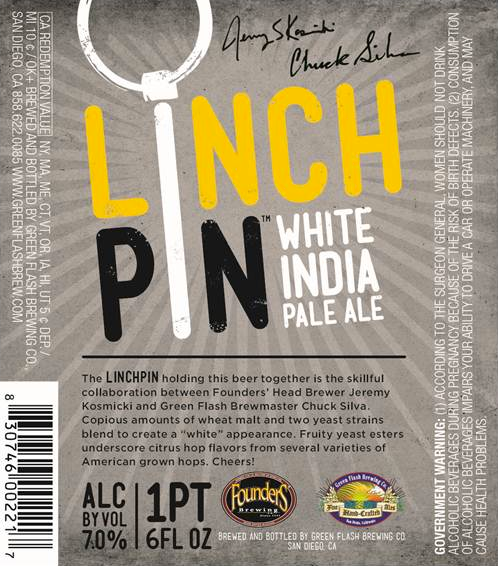 UPDATE: Linchpin will be distributed through Green Flash's wholesale network.  (Meaning, none for Michigan.)
Press Release: (San Diego, CA) – Green Flash Brewing Co. announces that they have partnered with like-minded Michigan brewer, Founders Brewing Co. to produce a first-time, limited release called Linchpin White IPA.
The Brewmasters from each celebrated craft brewery–Chuck Silva (Green Flash) and Jeremy Kosmicki (Founders) assembled privately last month in San Diego to develop the beer, and it will debut during the Craft Brewers Conference in San Diego and move on to limited release beginning May 2012. These well matched breweries have been individually brewing up several of the world's top flavor-forward ales and have now come together to collaborate on an uncommon and emerging beer style.
"Founders makes world-class beer," says Green Flash Brewing Co.'s Co-founder and President, Mike Hinkley. "It's not available in San Diego, so I always look to taste some when I am on the road. Our Sales Chief, Jim Kenny presented the idea and I was immediately all for it. Then Chuck and Jeremy settled on White IPA. I can't wait to tap these kegs and share this innovative new release with the national community of craft beer fans." Each brewery is known to push boundaries in creating risky, new, flavor-forward styles that appeal to the true beer aficionado.
Because Founders is not currently available in San Diego, the collaboration will allow the local beer lover a chance to experience the flavors and influence of this Midwestern gem through the Green Flash partnership. Green Flash will release Linchpin White IPA on draft during May's Craft Brewers Conference with events to take place as follows:
Tuesday, May 1 
Tapping of First Keg  — Green Flash Tasting Room & Beer Garden 3pm — 9pm
Friday, May 4 
Hamilton's & Regal Beagle Release Parties Begin at 5pm
Each bar will feature Linchpin White IPA
Other draft selections from Green Flash and Founders will also be on tap for the evening
Representatives from Founders and Green Flash will be in attendance
Beer Details: Linchpin White IPA 
"There's a lot going on in this beer with two yeast strains, copious amounts of wheat malt, and a big focus on 'C' hops to deliver a citrus explosion," explains Green Flash Brewmaster, Chuck Silva. "In fact we lined up more than a dozen hop varieties in the brewery to select three hops with the biggest citrus character to dry hop the beer.
"This golden beer pours with beautiful, frothy white beer foam that lasts due to bottle conditioning. Gently rousing the yeast that settles in the bottle will result in a fuller texture and a more cloudy white appearance. The citrus aromas that jump from the glass are largely tangerine up front with other types of citrus notes that mingle with the Belgian yeast esters. Hop flavors of bitter orange zest dominate the brew and linger to the finish with a nice play of American and Belgian yeast combo."
A beer with so many components can be held together with a "Linchpin". The official "Linchpin" of this beer is the skillful collaboration between the two breweries to create a unique hop-forward brew. Linchpins are symbolic: two simple shapes that combine to strengthen a bond amongst many different pieces.
Linchpin White IPA will be released during the May 2012 Craft Brewers Conference in San Diego and will then be available in limited supply via bottle-conditioned 22oz bottles and by the keg for special release events nationally in May and June 2012.
About Founders Brewing Company 
Co-Founders Mike Stevens and Dave Engbers opened Founders Brewing Co. in 1997 and are adamant about their mission: "We don't brew beer for the masses. Instead, our beers are crafted for a chosen few, a small cadre of renegades and rebels who enjoy a beer that pushes the limits of what is commonly accepted as taste. In short, we make beer for people like us." This philosophy has helped them gain recognition as the second best brewery in the world by RateBeer.com, for two years in a row.
About Green Flash Brewing Co. 
Green Flash Brewing Co. is located in San Diego, California, and was founded in 2002 by Mike and Lisa Hinkley.  Brewmaster, Chuck Silva, leads brewing operations. Green Flash is an award-winning brewer of fine, hand-crafted ales, and specializes in brewing assertive and distinctive beers, such as the nationally acclaimed West Coast I.P.A.: an award-winning beer whose wide acceptance has helped define a category.  Green Flash brews ten styles of beer regularly, on draught and in bottles as well as a growing lineup of seasonal and special offerings, including several barrel-aged beers, throughout the year.  Please visit the Green Flash website www.greenflashbrew.com for more information