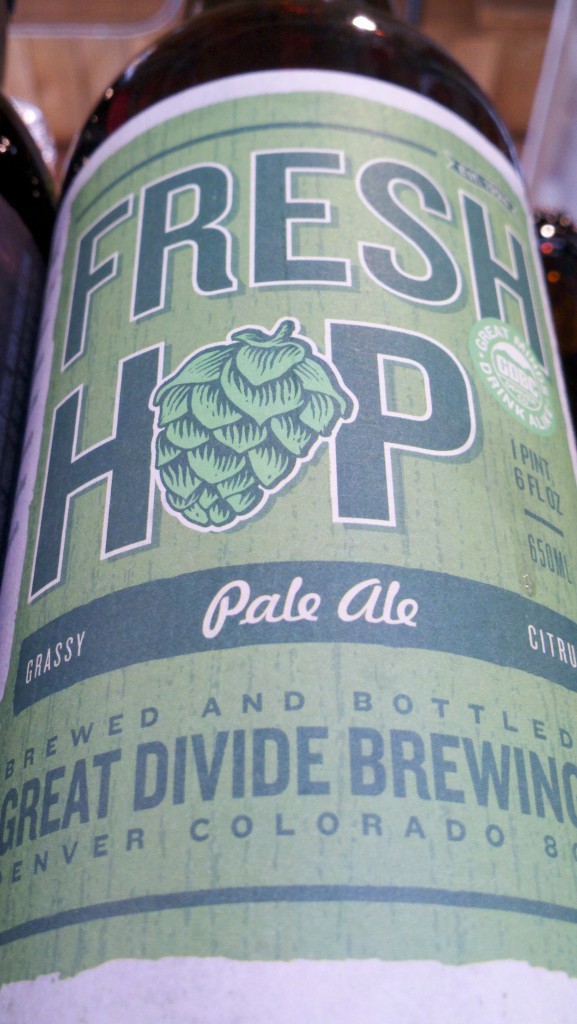 Fall is the hop harvest, and with it comes fresh/wet hopped beers.  Great Divide Brewing (Denver, CO) does great things, especially in bottle.  Hop heads this is another beer for you.  It's not overly hoppy, but fresh. Very fresh.
Commercial Description:
Fresh Hop Pale Ale is brewed with fresh, whole cone hops from the Pacific Northwest.  We ship these "wet" hops to Denver overnight and brew shortly after harvest, imparting an intensely grassy hop aroma and citrus hop flavor in a medium-bodied ale.
Style: American Pale Ale
Taste Expectations: A mix of fresh pine & citrus hops.  Hops are crisp & juicy. Sweet caramel malts balance this beer nicely.
Food Pairings: GD recomends Epoisses, a runny, rich intensely perfumed cheese from France, Grilled trout, Bratwurst, Garlic/ginger sweet potatoes
Availability: 22oz Bombers.  Some Draft.  October-November seasonally.
6.1% ABV