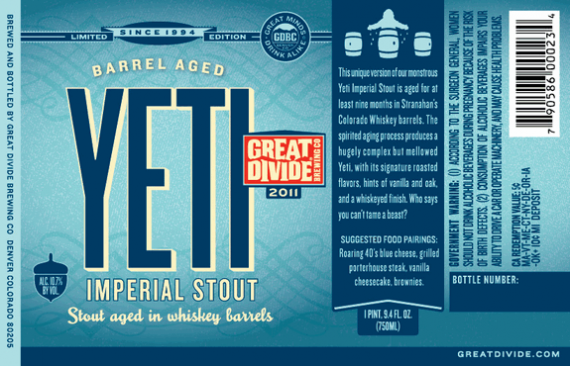 One of the best beers in Great Divide Brewing's lineup – Barrel Aged Yeti.  I once paid $80 for a bottle of it at a particularly world renowned beer bar.   It's heaven. (yeah, yeah, I loves me some barrel aged beer.)
This unique version of our monstrous Yeti Imperial Stout is aged for at least 9 months in Stranhan's Colorado Whiskey barrels.  The spirited aging process produces a hugely complex but mellowed Yeti, with its signature roasted flavors, hints of vanilla and oak, and whiskeyed finish. Who says you can't tame a beast?   
Style: Imperial Stout (Barrel Aged)
Availability: 750ml bottles. Very limited. Released annually.
10.7% ABV
Pics from Great Divide of BA Yeti bottling: