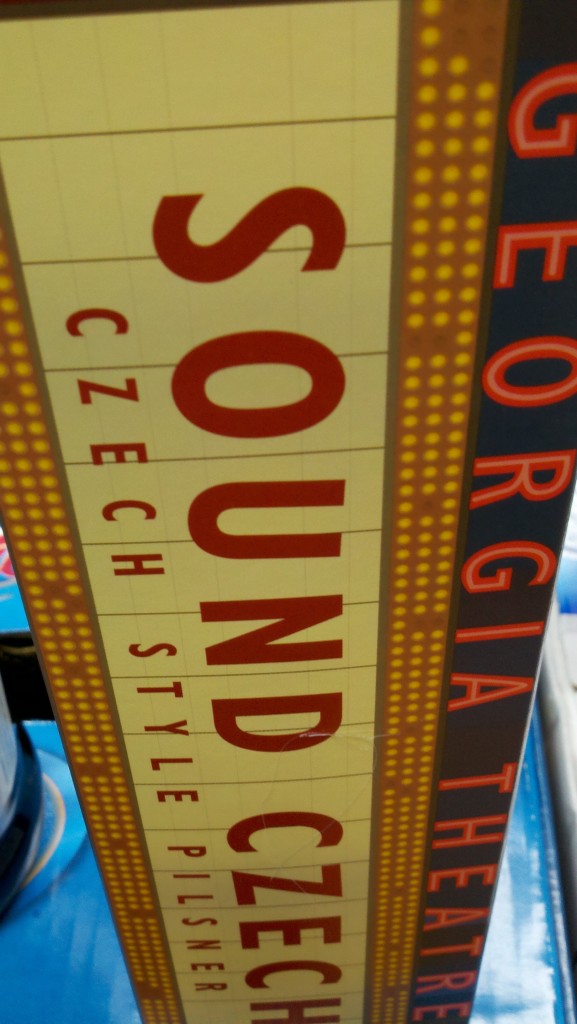 Volume 3 in Terrapin Brewing's Georgia Theatre Series is finally here.  To recap, last year the infamous Georgia Theatre in Terrapin's home town of Athens was destroyed by fire.  It help the rebuilding efforts Terrapin has been releasing beers commemorating the history of the landmark.  The tertiary release focuses on celebrating the Theatre's music history.
From Spike (Brewer, Terrapin):
Highlighting the wonderful days of the GA Theatre's music career as a premier music venue in Athens, GA.
"Sound Czech Pilsner" is brewed using floor malted Bohemian spring barley for an authentic Pilsner taste. By using 100% Czech Saaz hops and a authentic lager yeast strain from the Southern Czech Republic, this all malt lager will even quench "The King of Beers Taste Buds"
A portion of the proceeds will be donated to the Georgia Historic Trust for Historic Preservation Fund to rebuild the Georgia Theatre. To make things even more interesting, there is one Golden Ticket hidden among each of the Georgia Theatre Sessions brews. This means that four lucky winners will receive a lifetime pass to the new Theatre.
I hope that you are the lucky winner! Cheers! – SPIKE
Style: German Pilsner
Hops: Czech Saaz
Malts: Floor malted pilsner
Yeast: Czech Pilsner (lager)
Taste Expectations: Noble hop flavor.  Touch of citrus.  Clean light, pale cereal grains
Availability: 22oz Bombers. Boxed, hand numbered. 1 Time release.
5.3% ABV