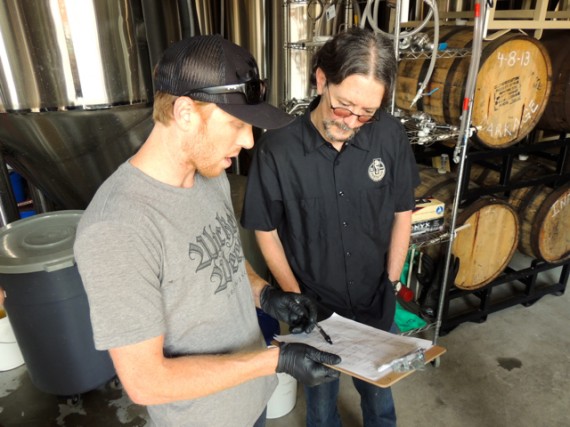 Wicked Weed Brewing (Asheville, NC)  and Foothills Brewing (Winston-Salem) have teamed up to create a collaboration dubbed Batch 69. The beer is Wicked Weed's first collaboration with another brewery. Wicked Weed founder Walt Dickinson was contemplating brewing something special to brew for Asheville Beer Week (May 25th-June 1st). An admiration for the established and creative Foothills Brewing prompted a phone call to T.L. Adkisson, Foothills' head brewer.
The two breweries combined Wicked Weed's Freak Double IPA and Foothills Sexual Chocolate to make Batch 69. 
As Dickinson puts it, "It's ideally going to be a drier beer, but with a lot of chocolate complexity, with a nice, bright, citrus finish on it." Adds Adkisson, "the beer's designed to have a chocolate profile, but tilt heavily toward an orange, almost tangerine flavor."
The name? Dirty? No. Purely coincidental. It was the 69th batch of beer brewed at Wicked Weed. Batch 69 uses Guatemalan organic cacao nibs were hand-roasted by French Broad Chocolate in Asheville especially for this beer.
Style: Imperial Stout (w/ Cocoa Nibs. Blended w/ Imperial IPA)
Hops: Simcoe, Citra, Amarillo
Availability: Draft only, Asheville Beer Week, 2013.
?? ABV