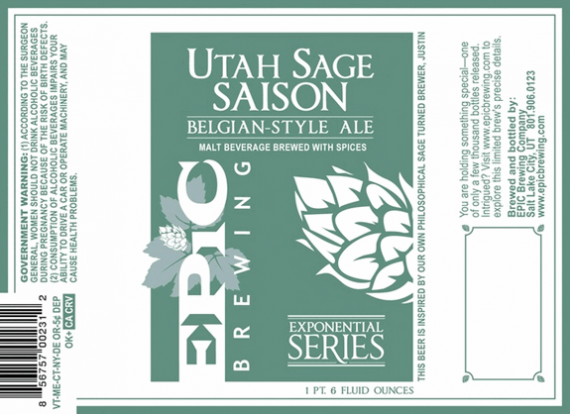 Coming soon from Epic Brewing Co (The peeps in Utah) is Utah Sage Saison. Joining the brewery's Exponential Series.
This beer is inspired by our own philosophical sage turned brewer Justin. 
Update: 1/7/12:
Brewed November 21, 2011.  Packaged December 22, 2011.
This seasonal Saison is brewed with fresh herbs. The first whiff is that of a festive array of rosemary, thyme with a dominating profile leaning towards sage. This beautifully crafted farmhouse style Belgian beer is warm with herbal notes and backed with earthy hops.
Style: Saison
Hops: Centennial, Amarillo, Calypso
Malts: Weyerman Pilsner, Muntons Marris Otter, Briess 2-Row, Brewers Malt, Rye Malt, Muntons Wheat Malt, Briess Pregel, Barley Flakes
Adjuncts:  Fresh Sage, Thyme, Rosemary
Availability: 22oz bombers.  Limited bottle run
7.5% ABV