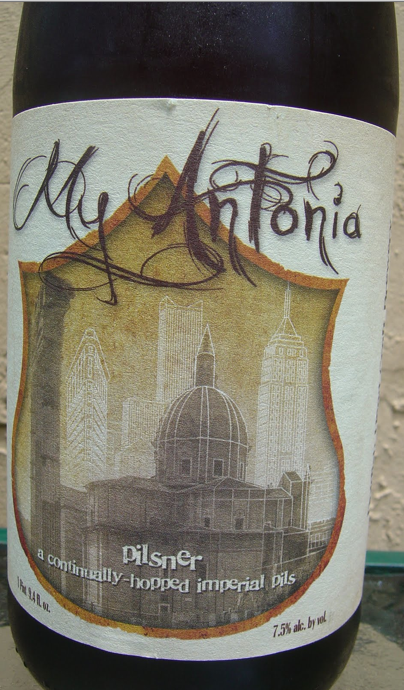 Dogfish Head Brewing's (Milton, DE) "My Antonia" is a limited, occasional release.  It's an imperial pilsner hopped in the special Dogfish method – continually.
Dogfish's Backstory:
My Antonia started out as a Collaboration beer when Sam brewed it at Birra del Borgo (hope you can read Italian) outside Rome, Italy with owner/brewer Leonardo DiVencenzo in October of 2008. In 2010, we began brewing My Antonia here at Dogfish Head brewery in Delaware for U.S. distribution.
My Antonia (named after the Willa Cather read), is a continually-hopped imperial pilsner.  This original 2008 batch was brewed and distributed by Birra del Borgo. A small quantity was sent over to the United States. The 2010 release will go to limited markets here in the U.S.. It should start hitting the shelves by mid-late June.
As an aside, in June of 2009, Leonardo came over to Delaware and brewed our original batch of beer with us at our Rehoboth Beach brewpub. And Leo is one of the four brewers who (along with Dogfish, Russian River and Baladin) are involved in the Eataly project in New York City. What goes around, comes around.
Style: Imperial Pilsner
Taste Expectations: Big hop profile. Light pilsner malts. Earthy, touch of lemon.
Availability: 750ml, capped.  Limited, based of DFH's brewing schedule
7.5% ABV
Here is our Quick Sip Clip video of Sam chatting about My Antonia with his Italian-American grandmother Jessie Calagione (they sometimes veer a bit off topic, but we think it's a great video and love her 'cash customers' story) – cheers!