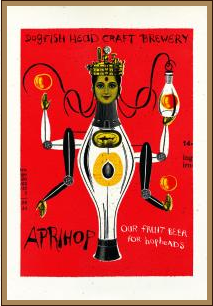 Brewing is an artform, both inside the bottle and out.  Each year Dogfish Head Brewery releases screen prints of their bottle artwork.   The first of the 2011 prints are now available.  The Aprihop print – conciding closely with the 2011 release is available from the Dogfish website.
Dave Plunkert is an artist with an impression portfolio from Baltimore, Maryland.  Plunkert will be doing 3 other prints in 2011, including Festina Peche, Punkin, & Chicory Stout.
Prints are available for $50 online, and at the Milton brewpub.
Check out Dave Plunkerts Art –> Spur Design
Check your Aprihop Print —> Dogfish Store