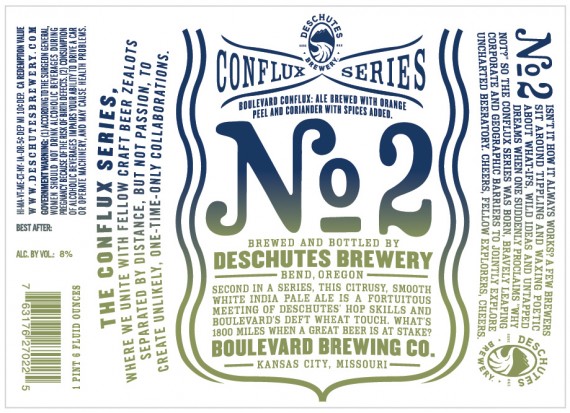 As mentioned earlier, Boulevard Brewing (Kansas City, MO) is collaborating with Deschutes Brewing (Bend, OR).  The breweries are creating a 'white' IPA.  Even more interesting – this collaboration doesn't involve travelling.  The white IPA is created off a single recipe that will become unique when Deschutes & Boulevard brew it.  Each brewery is releasing this beer under their own labels.
Label:
Isn't it how it always works? A few brewers sit around tippling and waxing poetic about what-ifs, wild ideas and untapped dreams when one suddenly proclaims "why not?" So the conflux series was born, bravely leaping corporate and geographic barriers to jointly explore uncharted beeratory.  Cheers, fellow explorers, cheers.
Second in a series, this citrusy, smooth white india pale ale is a fortuitous meeting of Deschutes' hop skills and Boulevard's deft wheat touch.  What's 1800 miles when a great beer is at stake?
Style: Belgian IPA
Availability: 750ml Bottles, Draft.  All regions where Boulevard & Deschutes is distributed.
7.5% ABV
Deschutes Brewing will be distributed in Missouri soon. June — July launch date.