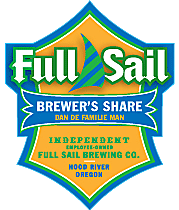 Full Sail Brewing turns 24 this month and to celebrate they will release a new beer in their Brewer's Share line up: Dan's de Familie Man Belgian IPA brewed by brewer, Dan Peterson.
Summarizing their press release (long winded, we have work to do!)
"Dan's de Familie Man is a Belgian IPA I present to you, as an interpretation of my family's quest to the West bringing what I know from the East and a humble tribute to what we found here."
After Dan Peterson moved his family out to Oregon:
In my daily explorations by bike I came across a clearing in the woods known as The Family Man where folks brought their kids and bikes and did not dodge taxis and delivery trucks but enjoyed the forest and life. And in the evenings I explored the Northwest hops in all their incarnations as IPA, Imperial IPA, and beyond," said Dan Peterson.
About the beer:
Style: Belgian IPA
De Familie Man pours crystal orange and supports a sturdy off-white head. Fresh peach, mango, papaya, and passion fruit aromas dominate the nose. Upon tasting, these tropical fruits crescendo to a point of perceived candy sweetness and the heat of 7.8% abv. At this moment, the hops take hold. A generous addition of Styrian Goldings, Amarillo, Simcoe, Saaz, and Crystal hops to the whirlpool contribute a spicy and coniferous juniper / pine bite. The finish is clean and abrupt leaving a nice touch of hop bitterness and a hint of candied fruit. (IBU 50)
 Charity!
 Hood River County Library Foundation and every keg of Dan de Familie Man benefits this volunteer organization. The Hood River County Library Foundation supports and enhances existing library services while funding an endowment to insure a quality library system for future generations of county residents.
About the lineup:
The Brewer's Share series is a line-up of small batch draft beers where each Full Sailor takes a turn hand-crafting their own single batch recipe and a portion of the proceeds benefit a local charity of their choosing. Full Sail's Brewer's Share beers will only be available on tap at Full Sail's Tasting Room and Pub in Hood River, Oregon, and at Full Sail's Brewery at Riverplace, in Portland, Oregon. Growlers to go are available. Dan de Familie man will also be featured at the Hood River Hops Fest on October 1. The next Brewer's Share will be brewed by Assistant Operations Manager, Dan Nakamura and is expected in early 2012.