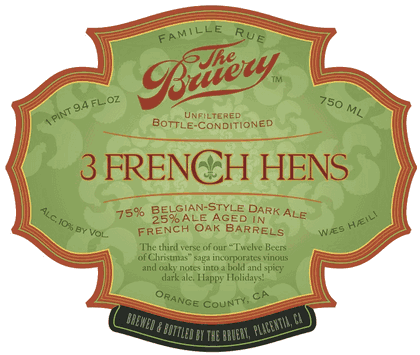 The Bruery (Placentia, CA) knows how to celebrate Christmas.  Why?  They have been releasing a beer in honor of the 12 days of Christmas. (The song.) Year 1 was "Partridge in a Pear Tree."  Last year – "Two Turtle Doves."  2010 brings "3 French Hens."  Each year the style is different.  Each bottle is intended to be cellared until the 12th release in 2019.
This years style:
"The third verse of our 'Twelve Beers of Christmas' saga incorporates vinous and oaky notes into a bold and spicy dark ale. 10% ABV." The formulation consists of 75% Belgian-style Dark Ale and 25% ale aged in French Oak barrels.
Availability: 750 ML/ Champagne Bottles.  One time brew.
Arrival: Late October- Early November 2010
10% ABV