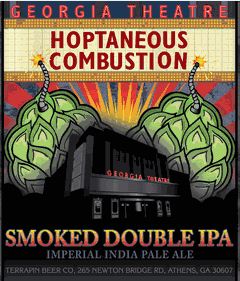 The last edition in Terrapin's Georgia Theatre Sessions beers is coming soon.  These beers (4 in all)  are meant to commemorate the beloved Athens, Georgia landmark, and benefit it's rebuild.   Each beer in this series has highlighted a part of the theater's history – from when it was a YMCA, a movie theater, and it's current fame – a music venue.  This last beer "Hoptaneous Combustion" remembers the fire that gutted it.  Hoptaneous will be a smoked imperial IPA.
Smoke?  Yes.  According to the brewery, this ipa will have some smoky flavor/malts.  It already sounds interesting.  Also, this beer will have a lucky golden ticket like it's predecessors. The ticket give the holder and a guess free entry to the rebuilt Georgia Theatre for life!
Style: Smoked Imperial IPA
Availability: 22oz Bombers.  Bottles are hand numbered & boxed.  Rare casks.
Arrival: December 2010