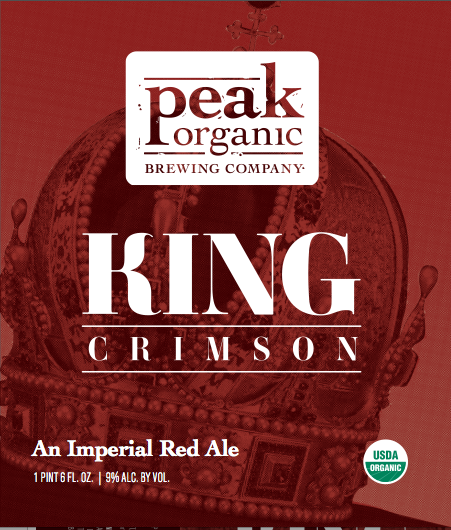 Peak Organic Brewing Company is set to add 22oz bombers to their lineup in 2011.  Apart from a special edition release, this is the first wide release bombers by the growing brewing company.  The first bombers will hold "King Crimson" an imperial red ale previously only found on draft.
King Crimson was first brewed commerically 2 years ago in small batch for festivals.  The next brew expanded the release of Crimson to tap handles only.  This next brewing of King Crimson will be both draft AND 22 oz bottles as this beer grows in popularity.  This year's release is also the first time this beer has been shipped outside of New England.
Description from Rob Lucente, owner of Peak:
This beer is full of American west coast fruity hops. Lots of Simcoe in the dry hop.  King Crimson has a classic west coast chico yeast strain which gives it a nice dry finish. This King is roasty & toasty with a great malty backbone.
Style: Red Ale (Imperial)
Arrival: Late February, 2011.
9.5% ABV
90 IBU's