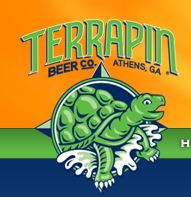 Correction! – This is a keg, not a cask.
You'll have to excuse the lack of updates over the weekend.  I think I spent more time drinking beer than writing about it.
Coming today is a rare keg from Terrapin Brewing.  30 Strong as it's named, was brewed going on a year ago for Taco Mac in celebration of it's 30th anniversary.  30 Strong is a strong ale brewer Spike Buchowski designed with 30 ingredients including malts and hops.  I'm trying to dig up the list of 30 ingredients, but for know be excited there is one more of these kegs in existence.
This keg is tapping at Taco Mac Crabapple as a kickoff to their 10 year anniversary week.  This is the first of a few beer related events going on this week at that location.  The keg taps when the store opens today March 1st, not at 5 or 6 like many others do.   30 Strong  is one of many things going on this week so be sure an check back!  Happy March!
Taco Mac Crabapple, 3/1/10
685 Crossville Road, Suite 146
Roswell, GA 30075