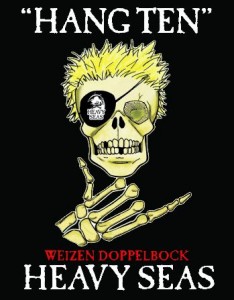 Taco Mac Crabapple will be tapping a cask of Heavy Seas Hang Ten Weizenbock at Taco Mac Crabapple, August 6th @ 6 pm.
Beer Description:
Hang Ten is a German weizenbock.  Weizenbocks typically have a complex malt character, while remaining on the high alcohol range.  They are comparable to bocks (especially in strength.) A weizenbock is a stronger version of the unfiltered Weissbier or Hefeweizen.
Taste Expectations: Look for dark fruit flavors — (plum, cherry, Raisins even prunes) followed by a big malt profile — caramel, even some vanilla.  Malt sweetness can make you think brown sugar.
Availability:  22oz Bombers, limited release.  Small batch release — July 2010
Cellerable: Yes, for up to 2 years.  Bottles are Vintage dated 2010.
10% ABV
Taco Mac Crabapple
685 West Crossville Road,
Roswell, GA‎ Twitter: @TMacCrabapple