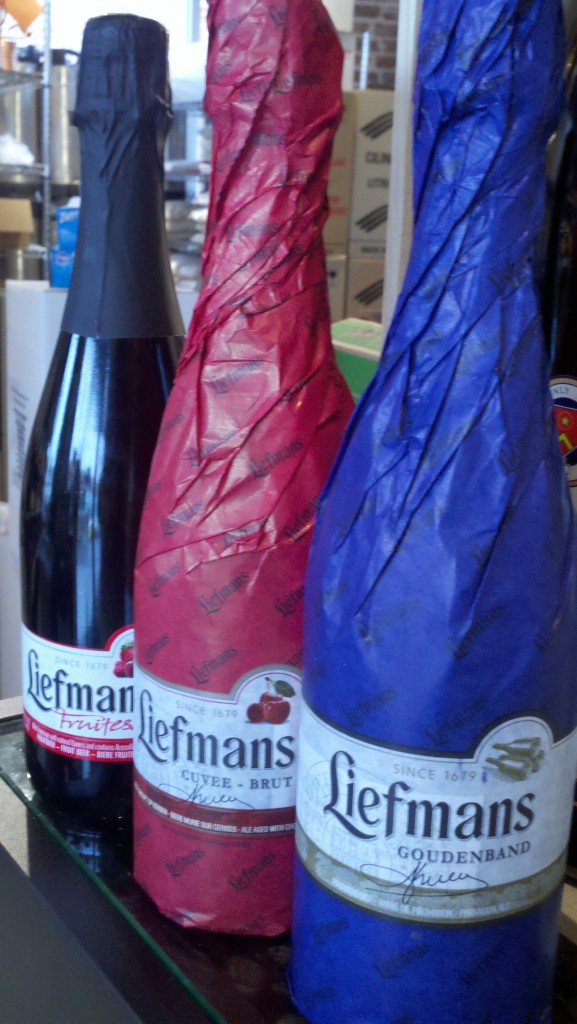 You have actually had a beer from Brouwerij Liefmans recently.  It was under a different name – Ommegang Zuur.  Zuur was a collaboration between Liefmans and the Cooperstown, New York Brewery.  Zuur contained a specialty blend of some of Liefmans signature beers.  Founded in 1679, Liefmans creates blended beers, originally meant to preserve the beer in the winter prior to refrigeration.  The beers were/and still are brewed, and matured for close to 2 years.  Before bottling, the beer is blended with young, sweet beer to freshen the beer.   Goudenband is the flagship example of this technique.
The three bottles to the left have been out of the market for a while (or not sold in the U.S. at all until now.)  Three titles have just appeared –
Liefmans Goudenband –  Flanders Oud Bruin, 8% ABV.
is a brown beer of high fermentation, brewed with special malts.  This beer will mature for 4-8 months in the cellars.  The taste of this typical provision beer evolves positively over time.
Liefmans Cuvee-Brut – Lambic, 6% ABV.
This Kriek is made with a completely different method from Kriek Lambic.  It starts with old brown beer which is macerated with fresh whole cherries in shallow, horizontal tanks (every 100 liter brown beer holds 13 kg cherries). Then it matures for about 1 year, afterwards it is blended with both Oud Bruin and Goudenband of different ages.  The result is a well balanced sour and sweet Kriek of great complexity.
Liefmans Fruitesse – Fruit Beer, 4.2% ABV
A fresh beer blend, maturing 18 months on cherries in the cellars at Oudenaarde – which is artfully blended with natural juices of cherry, bilberry, elderberry strawberry & raspberry.  The result is a pleasantly sweet, sparkling, and refreshing beer with a soft foam head.
Availability: 750 ML, Corked/Caged bottles. Less than $10 a bottle.
Looking for this? In stock, Hop City