The Brewer's Association, the not-for-profit trade group that represents small and independent craft brewers has releasd the annual "Top 50" list for 2017.
In the craft segment, Yuengling still holds the #1 spot in sales volume, followed by Boston Beer, Sierra Nevada, and New Belgium. New to the top 5 is Duvel Moortgat, which includes Firestone Walker, Ommegang, and Boulevard Brewing.
RELATED: Top U.S. Breweries in 2016
You'll see a name on this list after acquisitions that closed in 2016. CANarchy, The Craft Brewery Collective checks in at #9,  funded by Fireman Capital Partners. The group includes Oskar Blues, Cigar City Brewing, Perrin Brewing, Wasatch and Squatters Craft Beer.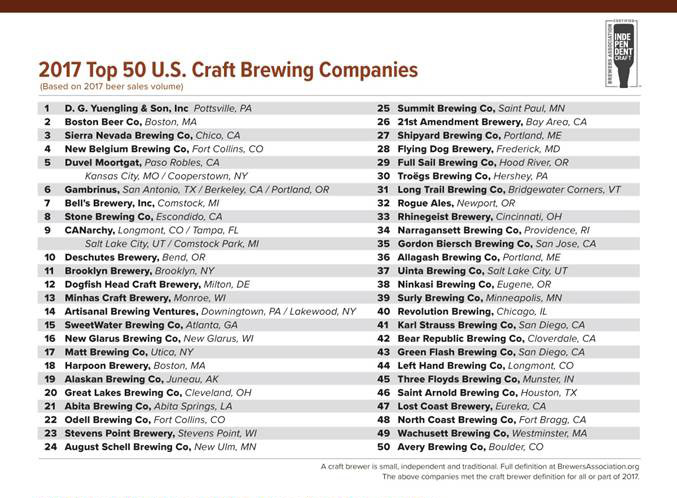 Below you'll see the Top 50 brewing companies in the United States overall, by sales volume. No surprise, AB InBev still holds the #1 spot, followed by Miller Coors. Constellation has bumped Pabst from the #3 spot.
In contrast, the largest craft brewery Yuengling appears 6th in overall volume.