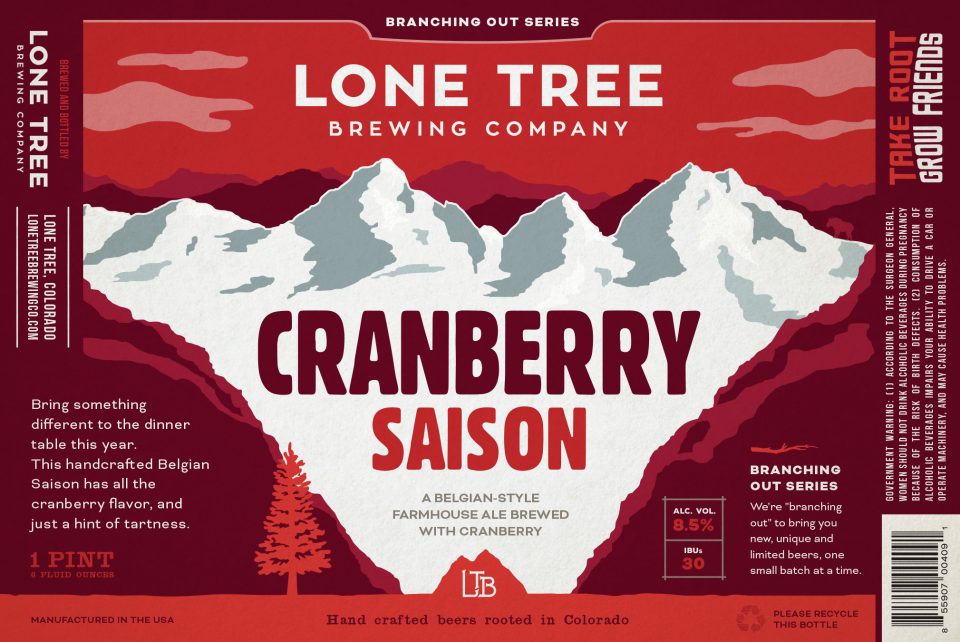 Lone Tree Cranberry Saison
Came across this in planning what breweries to visit during GABF.  
Lone Tree Brewing Company is weeks away from opening. John Winter & Jason Wiedmaier are putting the finishing touches on a 5,000 square foot, 7 barrel brewhouse in Lone Tree, Colorado. 6 year round beers are planned.  The 1,000 foot tasting room will feature growler fills, flights and pints, board games, soda for underagers, tvs, and places to chillax.  Lone Tree will not serve food, but encourages you to bring in food from surrounding restaurants.  
Press Release
Lone Tree, CO – August 7, 2011– Business partners John Winter and Jason Wiedmaier are preparing to launch Lone Tree Brewing Company this fall in the Parkway Point building at 8222 Park Meadows Drive, across the street from Furniture Row in Lone Tree, Colorado."The Lone Tree Brewing Company mission is to create a neighborhood gathering place where everyone feels right at home," says Head Brewer and Co-owner Jason Wiedmaier. Lone Tree Brewing will provide the public with small batches of hand craft beer produced in their seven barrel brewing system, featuring six flagship beers and a couple of small batch rotating taps.
The beers will be sold on premise in a tasting room. Patrons will be able to order sample flights, allowing them to sample a variety of brews, or regular pints. The brews will also be available at a small number of local restaurants and liquor stores. For those who want to enjoy the beer at home straight from the brewery, the following will also be available for purchase in the establishment:
-64 ounce growlers (reusable glass bottles)
-Sixth-barrel (5.2-gallon) kegs
-Half-barrel (15.5-gallon) kegs
Lone Tree Brewing will also create a couple varieties of soda for kids and non-drinkers. Food will not be offered at the brewery, but visitors are encouraged to bring their own food or order from neighboring restaurants.
The company's 5,000-square-foot brew house is currently in the design stage. "Around 1,000 square feet will be the tasting room; a small and friendly place, where fellow beer lovers can share the experience of sampling small-batch brews," Winter says.
The tasting room will be set up to host small private parties, receptions, and meetings. There will also be televisions throughout the establishment, as the partners will encourage the community to stop by and enjoy a craft brew during local and nationally televised sporting events. For those looking for a more conversational atmosphere, board games and cards will also be available.
The brewery will be open seven days a week, with closings planned at 8 p.m. Sunday through Thursday and 10 p.m. on the weekends. With a majority of the business hours being day-time, the partners hope to include a patio area in the future.
Lone Tree Brewing President John Winter has a vision that area cyclists will stop in for a mid-ride break, families will enjoy board games, and Lone Tree residents will find the brewery as a gathering place for community groups and events. "We want to be a part of the community, not a night club. We truly believe that this will be a unique establishment," says Winter.
Wiedmaier, a high school German teacher, learned about the cultural significance of brewing and the pride Germans take in their beer as a student.  Wiedmaier shares, "I took a magnificent trip to Germany and had many delicious beer experiences. Upon my return home, I began looking for beers that could provide the kind of satisfaction I found in fresh handcrafted German beers."
He has now been home brewing for 13 years and in working to master his brewing skills Wiedmaier became an employee at the Brew Hut homebrew supply store seven years ago. His efforts have paid off, as he has won several awards in homebrew competitions over the past few years.
The Brew Hut, which is attached to Dry Dock Brewing Company in Aurora, is where Wiedmaier and Winter first met. Although, their paths could have crossed much earlier, as Winter has spent a lot of time in Germany as well as other locations around the world while working in the aviation industry for 35 years. Winter explains that, "After spending a majority of my life working for large companies, I wanted to take that experience and apply it to creating a company that is fun and exciting."
Winter has been seriously brewing for more than three years now. But, it has always been much more than a hobby for him as he took his research to new heights, completing the "Concise Course in Brewing Technology" from the Siebel Institute of Technology to further his brewing knowledge.
While both have varied backgrounds, they have a mutual appreciation for the science, attention to detail, and experimentation behind creating a great beer. They also believe that the "neighborhood small town experience" will be enjoyable for the south Denver metropolis.
"We are hoping to name one of the beers after Acres Green, the community directly behind our location" the partners said. To learn more about the brewery's beer line-up, visit www.lonetreebrewingco.com for complete descriptions.