If you had any doubts before, don't. Philadelphia IS one of America's premiere beer cities. Tom Peters (Monk's Cafe), Chris Wilson (Weyerbacher) traveled to Brussels (Still in Belgium) to brew with Yvan De Baets of Brasseries de La Senne.
Manneken-Penn is a 7.5% Belgo-American Dubbel whose name and label art were inspired by Philadelphia's famed William Penn statue above City Hall, and Brussels' landmark Manneken Pis sculpture of a playful naked boy — ahem — relieving himself.  Manneken-Penn was made with oats, molasses and a combination of American and European hops.  It is imported for PBW by Shelton Brothers and will be available both on draft and in 11.2 oz bottles
Style: Dubbel
Availability: 11.2 oz bottles, Draft
Arrival: 5/31/13
7.5% ABV 
Click for tickets to PBW Opening Tap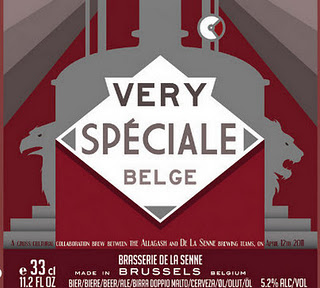 Brasserie De La Senne is actually credited with doubling Brussels, Belgium's brewery count — from 1 (Cantillon) to 2.   The duo that started brewery in 2006, outgrew the tiny brewhouse and has been contracting at larger breweries around Belgium ever since.  Finally, De La Senne opened it's doors at the end of 2010.  In April of this year, Allagash Brewing collaborated with La Senne abroad in Belgium.   It is finally being imported by Shelton Brothers, and is showing up stateside.
Belge is a actually a style, created in 1904 for a brewing contest that was held by the University of Belgium.  Needless to say, the style took off, becoming Speciale Belge.
Style: Belgian Ale (Like a Belgian style Blonde Ale)
Taste Expectations: Light bodied. Light citrus, pine & grassy.  Lively carbonation, crisp. Spicy.
Availability: 11.2oz bottles
5.2% ABV