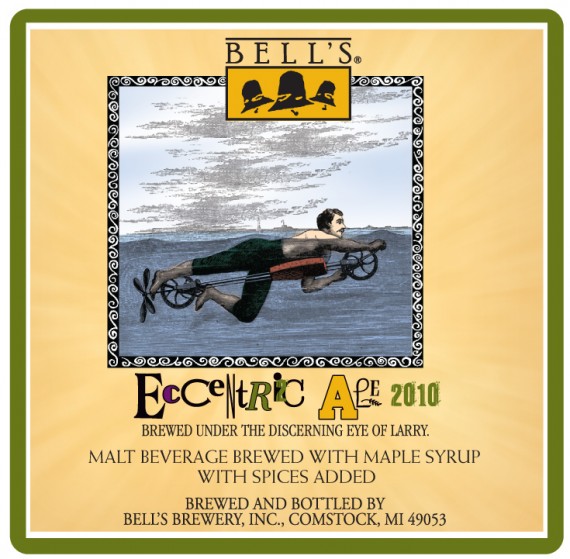 Bell's Brewing's Eccentric Ale release is 4 days away.  It goes on sale at the Eccentric Cafe at 9 am.  You dress "non eccentrically?" No beer for you..  From Bell's:
Bell's 13th annual Eccentric Day is one week from today. Here is what you need to know.
– Doors will open at 9 a.m. on Dec. 9.
– Eccentric attire is required
— come as you aren't. If you are not dressed for the occasion, you will be turned away at the door.
– There is no cover.
– There will be eccentric food.
– DJ Bowser will provide the tunes.
– Both the front and back bar will be open.
35 beers will be on tap plus a firkin of Special Double Cream Stout. Here's the lineup:
– Two Hearted Ale
– Kalamazoo Stout
– Porter
– Special Double Cream Stout
– Amber Ale
– Java Stout
– Pale Ale
– Cherry Stout
– Winter White Ale
– Expedition Stout
– Christmas Ale
– Rye Stout
– Best Brown Ale
– Oatmeal Stout
– Third Coast Beer
– Smoked Stout
– Third Coast Old Ale
– Harry Magill's Spiced Stout
– Oarsman Ale
– Sweet Potato Stout
– Bell's Lager Beer
– Trumpeters Stout
– Hell Hath No Fury … Ale
– Milk Stout
– Sparkling Ale
– Dagger Stout
– The Oracle DIPA
– Black Note Bourbon Barrel-Aged Stout
– Hopsoulution
– Eccentric Ale (bottles will also be available for sale at the Bell's General Store)
– Golden Rye
– Exp Hop 2011-1 (an IPA brewed with experimental hops)
– Rye-ghteous Ale
– Harvest Ale
– Raspberry Ale