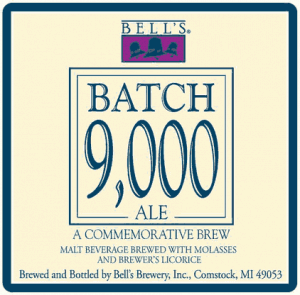 Arrived and quickly disappeared… Sorry if you missed it.  There were only 15 cases allocated to Georgia.
Confirmed.  Bell's  Brewing's Batch 9000 currently en route to Atlanta.  What is it?  Let's investigate.
First of all let's talk about the name.  In a previous post I wrote about the number on the side of all Bell's bottles.  It depicts a batch number in which you can enter on the Bell's website.  There you can find out when the batch was brewed and bottled.  The number on the side of Batch 9000 is of course… 9000. Bottled January 27th, 2010. Previous special releases by Bell's include the Batch 7000 & 8000 (Imperial Stout, & Witbier)
What is the beer?  While wrapped in an enigma, some about Batch 9000 is known.  It's an Imperial Stout, at 12.5% ABV. The label describes a malt beverage brewed with molasses and brewers licorice.  Early tastings indicate hints of licorice, coffee, chocolate, and alcohol.  From the back label —
"Dark and Rich, a great beer for the cellar."
There are very few cases headed to Georgia.  Hop City plans on selling these 12 oz bottles as singles to accommodate all the individuals looking to buy.  While Batch 9000 is currently in route, it isn't expect until next week sometime.  Although, you never know.  You should follow  @AtlBeerMaster on Twitter just in case…
Availability – One time extremely limited release.  ETA- Next 7-10 days.  Possibly sooner.