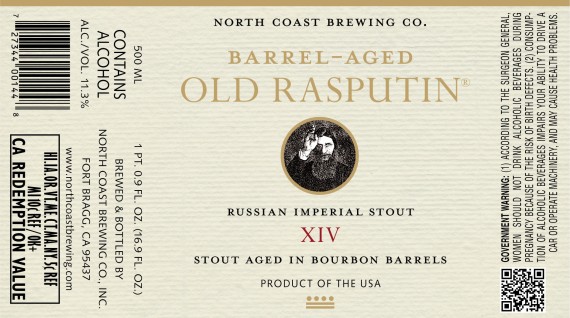 You'll be pretty excited to hear that North Coast Brewing's 14th Anniversary release – Barrel Aged Old Rasputin, aka XIV starts shipping soon.
North Coast's muti-medal winning and and highly acclaimed Russian imperial stout – Old Rasputin spends time in bourbon barrels.  Released once a year in corked and caged bottles.  12th Anniversary saw limited distribution upon it's release, retailing around $20 a bottle.
Per North Coast:
Rasputin XIV is Here!
For the past few years, barrel-aged Old Rasputin has been released in such limited quantities that it has been available only at the brewery retail shop.  However, we have received so many requests for this beer that for the 12th anniversary,  NCBC produced enough Old Rasputin XIV to put into broader distribution.  There's certainly not a flood of it, but it is available in select areas.  Check the distributor in your area to find where to get it. 
 
Style: Imperial Stout (barrel aged)
Availability: 16.9 oz bottles. Corked/Caged
Arrival: Now Available, as of 12/6/111
11.2%ABV