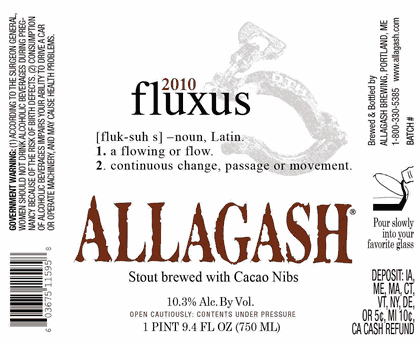 I spent sometime with reps from Allagash at the Maine-centric beer dinner at Muss & Turners.  The 2010 release of Allagash Fluxus is upon us.  Fluxus is released once a year, and as the name dictates, the style and nuance of the beer changes with each release.   As Allagash defines –
Fluxus: (fluk-suhs) -noun, Latin.
a flowing or flow
a continuous change, passage or movement
That is exactly what Fluxus is – a beer of continuous change.  2009 was saison with sweet potatoes, black pepper and extra hops.  The sweet potatoes gave the beer an extra orange color.  Centennial hops added grapefruit flavor.  Pepper added some spice throughout.  If you still have these bottles, Allagash suggests drinking fairly young.   Drink with 2009 alongside 2010 for some interesting flavor variations.
This year's 2010 release is a stout brewed with cacao nibs.  It was just bottled this month and should be on the way to distributors as this is written.  Here is the description of this release from the "sell sheet" –
"Allagash Fluxus is a beer of continuous change. Brewed differently every year to commemorate our anniversary, this year's Fluxus is a huge Imperial Chocolate Stout. Weighing in at 10.3% ABV, it is one of the strongest beers that Allagash has ever brewed. The brain child of brewer Doug Klippenstein, this beer utilized a unique brewing process that used wort from a smaller brew, as the "water" for mashing the grain for this brew. Maine-grown barley was used as the base for this grain bill that also included a blend of three roasted malts and oats. Fluxus was appropriately hopped with both US Saaz and Glacier hops. Just before knock out, fifty pounds of Taza roasted Cacao nibs were added to the whirlpool. The result is a thick, sticky stout with tons of both roasted and chocolate flavors, aromas of tobacco and cocoa, and a surprisingly sweet, creamy finish."
Availability – 750ML bottles, corked & caged.  Draft.  Annual release.  Recipe varies.
Arrival – Late July 2010.  Updates/Sightings @ATLBeerMaster on Twitter
10.3% ABV