Some in teresting news surfaced yesterday from the beer giant, Anheuser-Busch.  A new series, with a smaller, more hand-made feel to it.  The Brewmaster's Small Batch Series is already raising a few eyebrows.  The above (Batch No 537) is the second label to surface in as many days.
Not much is known about it or the series yet,   but that hasn't stopped beer drinkers from speculating.  Initial reactions have been mixed.  A lot of drinkers have taken an immediate hard line against the new beer, sight unseen.  Others, interested to see that A-B does.
Here are some facts.  Batch 538 has St. Louis, MO on the label.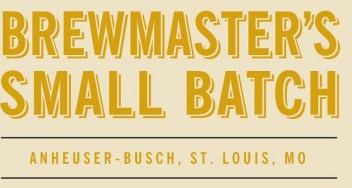 As you can see, Batch 537 has Los Angeles, CA on it.  Meaning? Wait and see.  You're not the only one wondering where they are going to take this.   Small brewery sales are through the roof.  Big brewery's shipments are down. (Unless you're Heineken.)  Is Small Batch an attempt to reconnect with the drinker?  Can't wait to find out.
Style: Unknown
Availability: 12 oz bottles
Arrival: TBA
6% ABV
Read More: Brewmaster's Small Batch Series