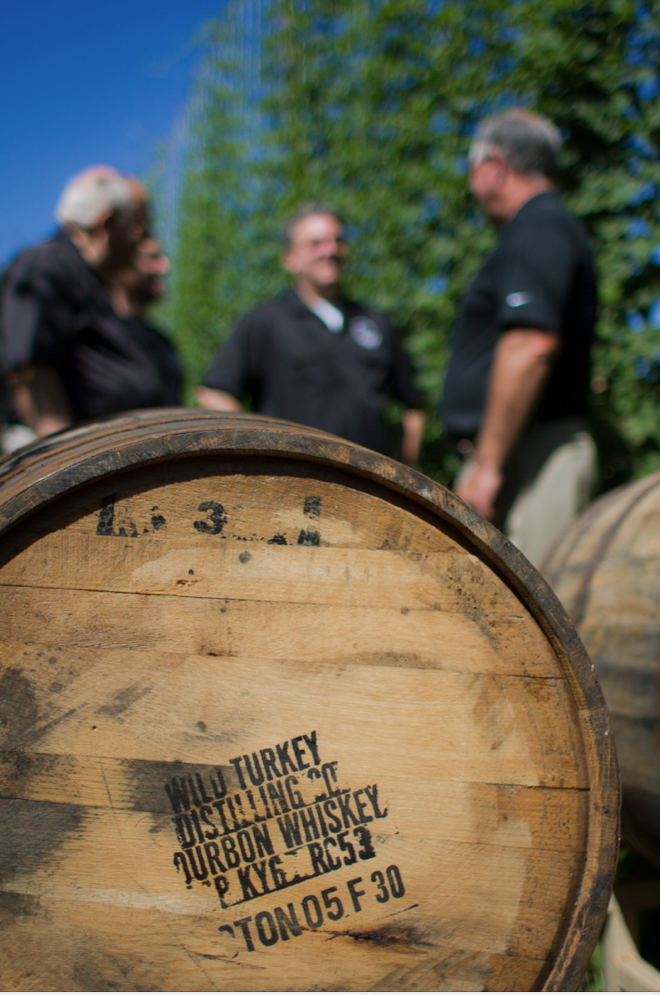 Anderson Valley Brewing (Boonville, CA) has entered into an exclusive partnership with Wild Turkey Bourbon. Together they will create a new series of bourbon barrel aged beers. After a few months of experimenting with the Wild Turkey barrels, Anderson Valley is ready go full steam into barrel aging.
"The opportunity to partner with the Bourbon Hall of Fame Russell family and Wild Turkey is tremendously exciting," said Trey White, Anderson Valley owner and CEO.  "We have done some trial brews with a limited number of Wild Turkey barrelsover the past several months and the beers to date have been awesome.
The partnership is very beneficial, as Anderson Valley now has access to hundreds of barrels instead of a handful. That means more badass barrel aged beer for everyone. For the first round of bourbon aged offerings, Anderson Valley has aged Barney Flats Oatmeal Stout. Draft only offerings available first. Look for bottles in 2013.
Even Jimmy Russell of Wild Turkey is excited at prospect of drinking beer.
"I've been familiar with Anderson Valley Brewing for some time, and I've always admired the pride and care they take in crafting and brewing their beer," said Jimmy Russell, Wild Turkey Master Distiller.  "It's similar to the approach we take with our bourbon, which made this partnership such a natural fit. Now I finally have a good excuse to drink a great craft beer!"
Start looking for the first barrel aged beers in fall, 2012. Below are some pics from the folks of Anderson Valley and Wild Turkey doing their thing. [PressRelease]