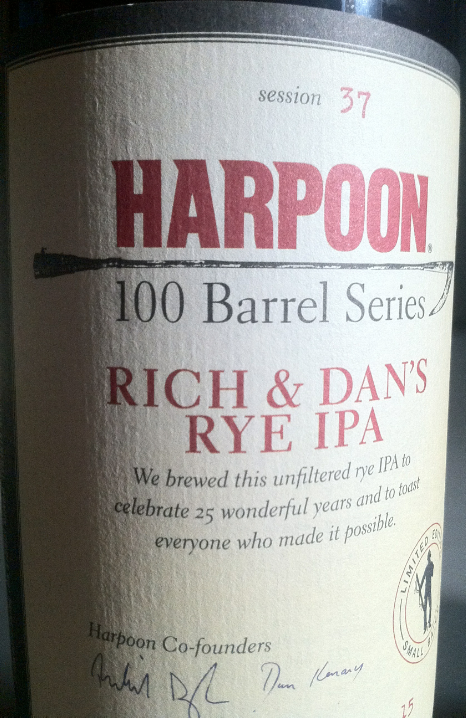 In celebrating 25 years of brewing Dan Kenary and Rich Doyle, founders of Harpoon Brewing bring you hoppy rye offering.  Rich & Dan's IPA joins they brewery's 100 Barrel series this month.  It is #37 in the series.  Harpoon was founded in 1986 in Boston, Massachusetts.  In 2000, Harpoon purchased the Catamount Brewery and expanded to Winsor, Vermont.  Both locations have tap rooms & tours.
Brewing our Rye IPA has given us the opportunity to reflect on 25 years of Harpoon and yet another excuse to have a pint or two of beer together on the brewhouse floor.  As all good partnerships require give and take, we went back and forth on the specifics of this unfiltered Rye IPA. In choosing this style, we pooled our individual ideas and preferences to create something that we would both enjoy and, we hope, something that you will enjoy as well.
Style: Rye IPA
Hops: Centennial, Willamette, Chinook. Falconer's Flight (dry hop.)
Malts: Pale, Marris Otter, Caramel 60, Flaked Rye, Vienna
Yeast: Harpoon House Strain
Taste Expectations: Fruity hop character, balanced with a spicy rye flavor.  The beer is full bodied, with a dry finish.
Availability: 22oz bombers. Draft. One time brew.
6.9% ABV, 54 IBUs