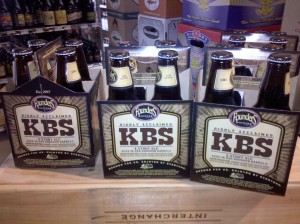 Yeah small batch releases seem to be all the rage these days.  Some find it frustrating.  I find it fun.  The next small batch beer is floating around Georgia, waiting to be spotted. It's Founder's Kentucky Breakfast Stout, or KBS.
KBS is an Imperial Stout brewed with coffee and vanilla and aged in oak bourbon barrels for a full year.  Chocolate is also added.  The official release day is as close to the Ides of March as possible (March 15th.) For Founder's the closest day to party is Saturday, March 13th – and of course the party is planned.  If you aren't lucky enough to make it to Michigan, you can have a bit of your own launch party here in Atlanta.  Savannah Distributing – the distributor of choice by Founder's is already hinting at sightings in Georgia, emphasizing its small batch limitations.
Taste?  Imagine chocolate, coffee (espresso?), vanilla, bourbon, oak, and wood.  It's balanced, full, smooth, complex, delicious.
KBS is brewed once a year.  Availability is in 12 oz bottles.  Draft offerings not specified.
11% ABV
Sightings to follow.   Be sure to follow @ATLBeerMaster on Twitter…
3/11 – 12 Noon – In stock at Hop City.  4 pks – 19.99.  Limit 2 per customer…
3/12 – Sold out, Green's on Ponce
3/16 – Tapping @ Brick Store Pub.  Must ask for it, not on menu.
3/20 – Still flowing at The Porter Beer Bar…
5/18 – Taps 7 pm at Cypress Street for Atlanta Beer Week w/ food pairings!!