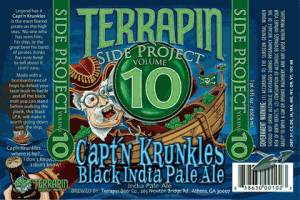 UPDATE! DATE CHANGE!! Just as soon as I post and in depth look at this coming release, I have official word of the release party  for Capt'n Krunkles!  On Thursday March 11th, be at Brickstore Pub for a special cask of the Capt'n to celebrate its release!  This cask is aged in oak.  Tapping will be at 5pm sharp!
It's March, and its almost time to see Terrapin Brewing's newest Side Project beer — Capt'n Krunkles.  The best description of Krunkles would be calling it a "black IPA," an unofficial beer style that is rapidly becoming popular.
Capt'n Krunkles is in the tanks at the brewery, almost ready for bottling.  This black IPA is brewed just like a regular lPA, but with a small difference — dark malts.  Black IPA's pour black as if to give the impression of a porter or stout, but taste as hoppy as any IPA you may have tried.  The Capt'n  is full of dark malts, and has over 2 lbs. of hops per barrel.  Here is a closer look at the ingredients in Krunkles —
Hops — Warrior, Columbus, Nugget, Centennial, Simcoe.  Dry Hopped w/ Ahtanum.
Malts — 2 Row Pale, Dark Munich, Crystal 24, DH Carafa III
ABV — 7.5%
From the bottle —
Legend has it Capt'n Krunkles is the most feared pirate on the high seas.  No one who has seen him, his ship, or his band of pirates drinks has ever lived to tell able it.  Made with a bombardment of hops to defeat your taste buds in the battle and all the black malt you can stand before walking the plank, this Black I.P.A. will make it worth going down with the ship.  Capt'n Krunkles… Where is he?  I don't know… I don't know!
Availability — Limited one time release, in 22 oz bottles, 1/6 barrels, ½ barrels.
Release — March, in the next few weeks.  Updates to follow. CASK 3/11 @ Brickstore Pub