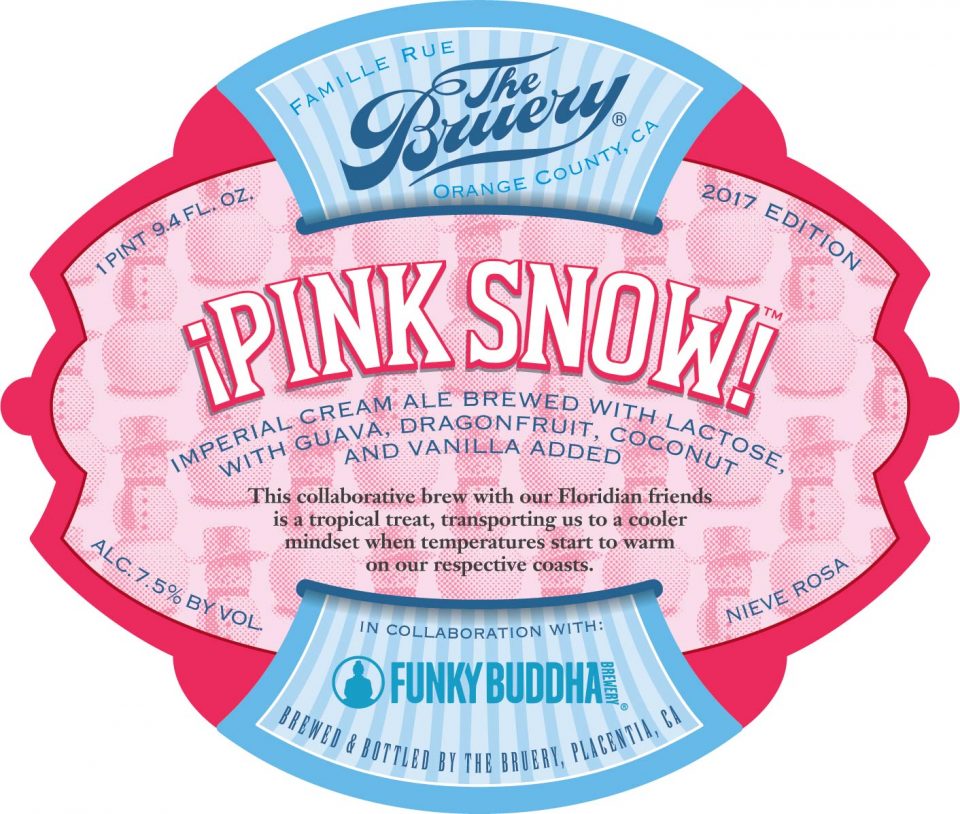 Later this year, The Bruery has a collaborative release slated for later this year, with Florida's Funky Buddha Brewery. Until today, we thought there might only be one, but in actuality, there might be two. The first – Guava Libre!. A second potential has surfaced – The Bruery Pink Snow.
Both creations are slated to be cream ales. Guava Libre is inspired by a Cuban guava pastry. The Bruery Pink Snow also carries a dessert vibe, resulting in something more fitting for the SoCal and Florida mild winters – a tropical snow cone.
This imperial cream ale features guava, dragonfruit, coconut, and vanilla beans, turned creamy smooth with the addition of lactose.
Since our collective exposure to the wet wintry elements is minimal, we at The Bruery® and Funky Buddha decided to create our own version of snow – something pink and tropical -that we can play in as temperatures start to arm. Championing the big, bold flavors our breweries are known for, we brewed an imperial cream ale, then added lactose and vanilla for sweetness, and guava, dragonfruit and coconut for a vibrant, tropical vibe.
The Bruery Pink Snow is slated for 750 milliliter bottles, estimated to release in August, 2017.
Style: Imperial Cream Ale (w/ Guava. Dragonfruit. Coconut. Vanilla Beans. Lactose.)
Availability: 750ml Bottles, Draft.
Debut: TBA
7.5% ABV