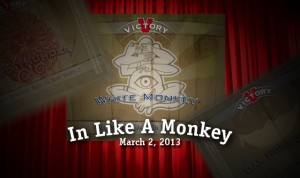 March 2nd 2013 will mark the official release of White Monkey just in time for their 17th anniversary. Chardonnay barrels from Wente Vineyards in CA were used with Golden Monkey happily hibernating inside them for the past 3 months. There will only be approximately 2,800 cases of 750 mL corked and caged bottles available throughout Victory's distribution area.
"Our Golden Monkey is beloved by many, so we anticipate some heartfelt responses to our intriguing transformation of this beer," expressed Victory brewmaster Bill Covaleski. "The wine barrel aging has had a substantial and delicious impact on the Golden Monkey."
In conjunction with the launch of this beer on March 2nd, Victory will be opening their brewpub at 8am for a special breakfast fit to be paired with both Golden Monkey as well as White Monkey. Case and bottle purchases will also begin at 8 am.
Style: Belgian Tripel (aged in wine barrels)
Availability: 750 mL bottles
Arrival: March 2013
?? ABV