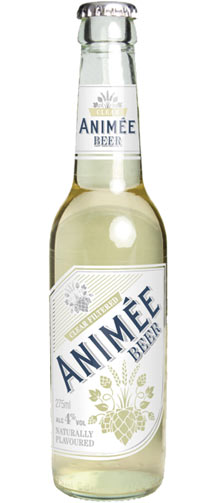 Here it is… your clear lager for woman.  "Clear Filtered" and bloat resistant.   The other flavors – including Rose, and Citrus will have a tinge of color…
Molson Coors Press Release
Launching in early Autumn, Animée is part of Molson Coors' ambition to make beer a real choice for women who are vital in growing a shrinking beer market, which currently attributes just 17%** of its sales to females The 4% ABV beer is lightly sparkling and finely filtered with a delicious, fresh taste. Animée will be available in three variants: clear filtered , crisp rosé and zesty lemon.
The new brand positioning aims to dispel the perception among women that all beers look and taste the same and that there is nothing to tell them apart. The positioning is supported by Animée's unexpectedly sophisticated appearance and delicious, fresh taste.
Kristy McCready, Communications Partner, Molson Coors (UK & Ireland) said: "Women are an essential part of future growth for the beer industry and can no longer be ignored. We need to repair the reputation of beer among women by launching products that meet their needs.
"Driving a growth in beer consumption among women is no mean feat. Currently 79% of women in the UK never or rarely drink beer, only accepting to drink beer on a small number of occasions. At Molson Coors we have put a lot of time into finding out why women aren't drinking beer, conducting an insight programme with over 30,000 women, and what would make them change their minds. The result is Animée, which we see as an exciting opportunity to break down the barriers between women and beer. The brand plan and the product design are feminine and sophisticated without being patronising."
Animée is the result of two years of NPD driven by industry and consumer insights from the BitterSweet Partnership, a multi-million pound business set up by Molson Coors in 2009 to remove the gender imbalance that exists around beer consumption and make beer an aspirational choice for women.
Working with VCCP Blue, Molson Coors will launch a £2 million advertising campaign in September to drive awareness of Animée among consumers and the trade.