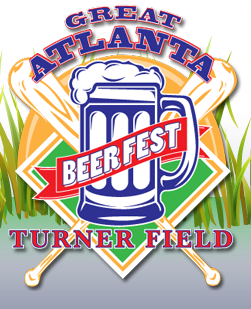 The creators of Atlanta Summer Beerfest, and Winter Beerfest will be bringing you the Great Atlanta Beer Festival at Turner Field.  The fest falls during Atlanta Beer Week 2011. 
From the Fest Founders:
We are proud to announce that the Great Atlanta Beer Fest at Turner Field will be held on Saturday October 8th from 3-8pm. Turner Field will provide an outstanding atmosphere for what will soon be the biggest beer festival in all of Atlanta. We will feature hundreds of different beers to sample from all over America, as well as a great selection of European beers.
The bulk of the Great Atlanta Beer Fest will take place in the Grand Entry Plaza and Monument Grove. Scout's Alley will be open and the games will be free for beerfest patrons. College football will be on the 18 TV's all over the Chop House, so you won't miss the day's action. There will be live music on the stage of the Grand Entry Plaza; the band will be announced soon.
Festival tickets will be $35 advance, $45 day of event, and they will go on sale Wednesday, August 17 at 10am. The first 500 tickets will be just $25, but they are sure to go very quickly. Tickets will be available on Ticketmaster using the Buy Tickets link on our website, or you can buy your tickets at the Turner Field box office with $0 in service fees.