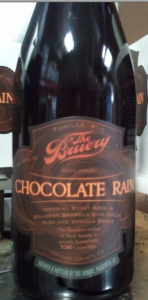 I still can't believe the success The Bruery (Placienta, CA) has had in 3 years.  With good reason.  The beers are great.  Like this one – Chocolate Rain.
Chocolate Rain has been a draft only, rare offering by The Bruery. Even a bit more rare than "Black Tuesday" an imperial stout aged in bourbon barrels.  Why?  Its actually Black Tuesday with vanilla bean, & cocoa nibs.  Just to recap: Imperial Stout aged in bourbon barrels.  Take that tasty treat and add vanilla bean & cocoa nibs.  Excuse me while I go get a bib.
This tasty treat is headed for bottles for the first time.
Style: Imperial Stout (Barrel Aged)
Availability: California Only.
19.5% ABV