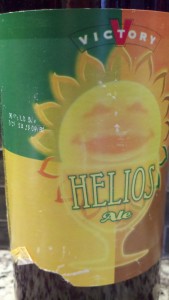 Victory Brewing Company released a statement today about a recall of "Helios" ale.  No, the recall is not for something deadly like what has been popping up in lettuce and eggs.  It's for over carbonation.  As Victory states "A flaw in the bottle conditioning process."  The brewery tweeted this morning – "Attention friends who are holding bottles of Helios Ale bottled before 2010: Please dispose of them ASAP"  also linking their blog with the full details.  Read on for full details.
From the Victory Blog:
"We are sad to announce that we have some Helios Ale that is over-carbonated.  The batches that are affected by this recall include the bottling dates of October 26 and December 10, 2009.  Testing conducted today on bottles from those dates yielded definitive results. Therefore, this recall has been initiated to address a flaw in the bottle conditioning process that has significantly over carbonated the beer, with resultant pressure in bottle exceeding the bottle's burst rating.  There is nothing unsafe about the Helios Ale itself, but there is danger of exploding bottles.  There have been confirmed reports of bottles exploding. These reports include bottles sitting still, not being agitated, and have been received by us within the last 48 hrs.
This is an obvious safety hazard we wish to mitigate.
All products from 2010 are properly carbonated and pose no risk.
What to Do If You Have Bottles From These Recalled Bottling Runs:
Minimize the handling of the beer from where it currently sits to where you can safely open it.  The safest solution is to gently open the bottles over a sink.  If it gushes out, that would be a result of the over carbonation.  If it doesn't, enjoy the beer, as any extra CO2 may be enjoyable on the palate.
We  certainly want to give you value for any Helios Ale that you purchased and were not able to enjoy due to this over-carbonation issue. If you need to make a claim for replacement value, please do so here.
How Do You Tell The Date That A Helios Ale Was Bottled On?
In the left side of the front label you will find white letters that were laser etched at bottling stating "BOTTLED ON: ____" The over-carbonated bottles are from dates October 26, 2009 and December 10, 2009 and they would appear like such: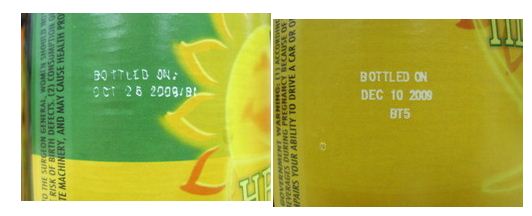 Victory Brewing makes some great beers.  We are all human and sometimes make mistakes.  I have to applaud Victory for keeping quality and safety in their minds at all times.