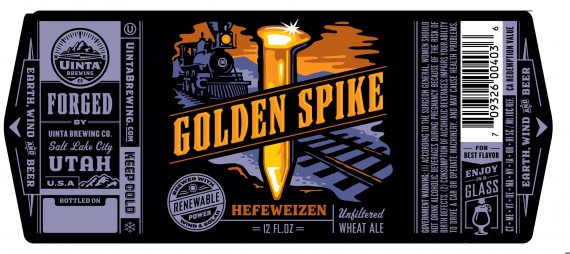 Uinta Brewing's new label for Golden Spike, a year rounder by the brewery.
Golden Spike Hefeweizen was named in honor of the celebrated historic completion of the first transcontinental railroad in the United States. In May 1869 a ceremonial "golden spike" was used at the juncture of two facing locomotives–the Union Pacific No. 119 and Central Pacific No. 60 (better known as the Jupiter). Each locomotive represented the railroad lines laid from the Atlantic and Pacific oceans. The copper-alloyed gold spike was tapped into a pre-drilled hole and replaced by an ordinary spike soon afterwards. Each of the four sides of the golden spike was engraved, including one inscription that said, "May God continue the unity of our Country, as this Railroad united the two great Oceans of the world."
Style: Hefeweizen
Availability: 12oz bottles, Draft.
4% ABV, 18 IBUs