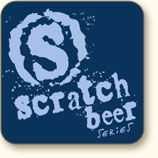 Today, Tröegs Brewery  (Hershey, PA) honors a friend that past away in January.  Danny's IPA is brewed for brewery employee Danny Glover.  Interestingly, the beer is modeled after one of the brewery's most popular beers – Nugget Nectar.  $10 of every case of Danny's IPA sold at the brewery goes to the Gift Of Life donation program.
Scratch #63-2012 was brewed to honor Danny Glover, our good friend who passed away earlier this year. Dubbed Danny's IPA, this Black IPA is modeled after Danny's favorite beer, Nugget Nectar. It clocks in at 7.0% ABV and 100 IBUs. Per John Trogner III, "If anyone says it's not hoppy enough, punch them in the face."
Rotten grapefruit flavors from Columbus hops dominate Scratch #63. The dry-hopping rate is nearly one pound per barrel creating a dank, piney aroma that gives way to a grassy finish. This beer was dry hopped at a rate of 1.25 lbs. per barrel, more than two times the rate of Nugget Nectar.
Style: Imperial IPA
Hops: BOIL — Bravo, Columbus, Nugget, Palisade, Apollo HOPBACK — Bravo, Columbus DRY HOP — Palisade, Apollo, Zythos, Columbus, Summit
Malt: Pils, Munich, Crystal, Midnight Wheat
Availability: 12 oz bottles. Draft (Tap room)
?? ABV