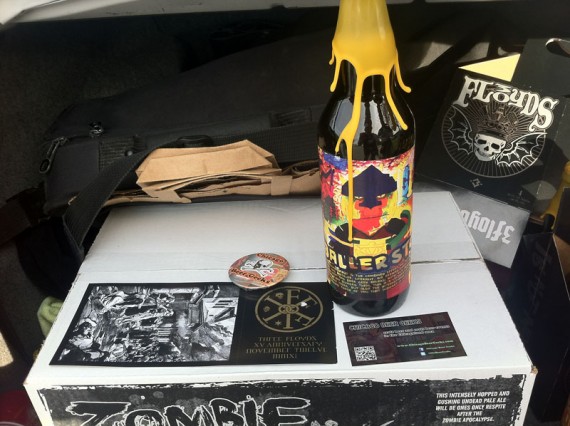 Three Floyds Anniversary brew- Baller Stout (a collab featuring 3 Floyds, Surly, Mikkeller, and Struise: a blend of Dark Lord, Darkness, Beer Geek Brunch, and Black Albert) Is rumored to hit distribution. (Even if it's just a little bit.)  Now this is a rumor, and not 100% verified. But those with access might now want to miss out.
PittsburghKid66 mentioned this on BA:
I will cut to the chase. If you were pissed at Three Floyds about the way they handled their release party, be prepared to be down right outraged.
Apparently, Three Floyds is distributing the remainder of their xv beer. Now the amount, who knows. However, I just went to a local store that usually doesnt get any limited beer at all. They not only have xv on sale, but they also have amon amarth which was until now brewery only.
I have been told that other liquor stores have it also, but this has not been confirmed by me. However, it may explain how the manager of a local liquor store chain was able to obtain such a large quantity to trade on this site. I should add this is only conjecture on my part and not an accusation.
In any case, for those of you who paid $25 a ticket for the right to purchase this beer and then stand in line another 4 or so hours, I imagine this news will be highly upsetting.
If anyone else has any news in regard to this, please post. On the other side of the ledger, this store is charging more than you are currently able to purchase xv on ebay so not all bad.
pic via ChicagoBeerGeeks