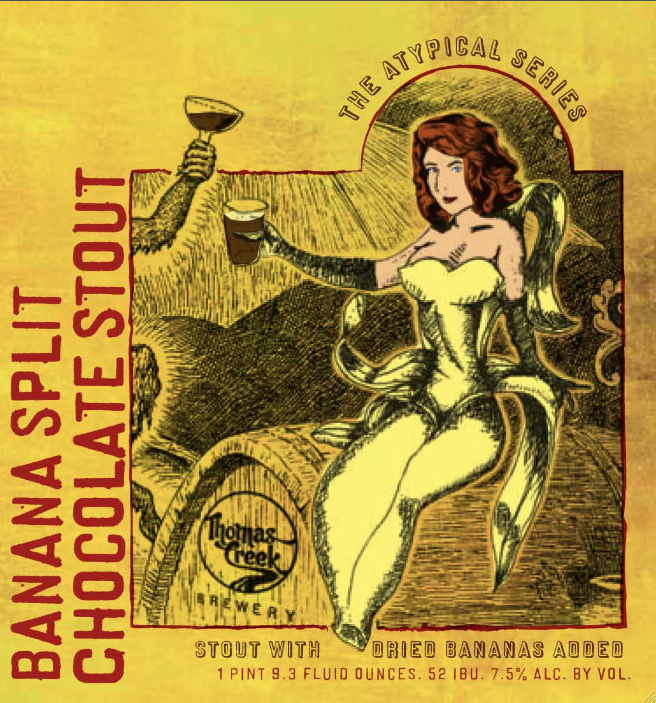 Thomas Creek Brewing (Greenville, SC) recently added a specialty line of beers dubbed the "Atypical Series". It fits well with the breweries slogan Sink the Status Quo. The beers in this lineup come in 750 ml bottles, corked & caged with the first release being Conduplico Immundus Monachus or "Double Dirty Monk." That release is on shelves now – a Belgian style porter. Meet the 2nd Atypical member – Banana Split Chocolate Stout.
This beer is a full bodied, roasty stout with hints of chocolate banana. I already got a chance to taste this beer, and it was a fun stout to drink. The brewers at Thomas Creek minimalized use of dried banana chips in this beer, focusing more on letting the yeast bring out this flavor profile. The malts & chocolate are very prevalent, with a light hint of banana in the nose, & finish.
Label:
Forgive us, our transgressions. Banana split chocolate stout has flavor so rich you will feel like you have just saddled up to the counter at an ice cream parlor. This dark chocolaty libation boasts caramel, toffee, and roasted malt flavors. It is crisp and smooth, allowing distinct banana overtones to satiate your daily dose of sinful indulgence.

Availability: 750ml bottles, corked & caged.
Arrival: June, 2011
7.5% ABV