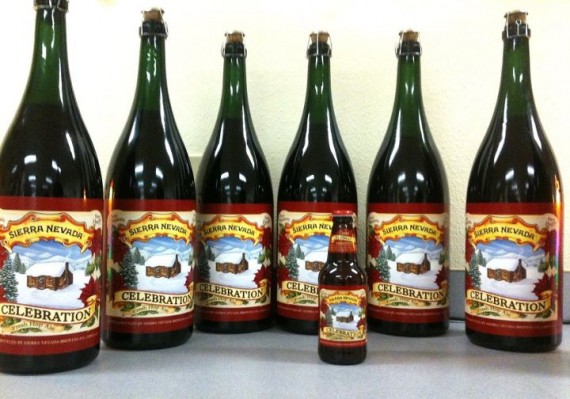 This is completely a tease, as these Sierra Nevada Celebrations big boys are just experimental bottles.  But we MIGHT have the opportunity to purchase these bottles in the future.
What you see before you are 101.4 fluid ounce editions of Celebration Ale.  Yes they  just experiments.  Per Sierra brewer Terrance Sullivan:
These were test bottles to see if we could fill counter pressure bottle condition beer. Hopefully these will become available in the future with more beers than just Celebration Ale. Although opening one of these is a true Celebration.
Sorting through the beer geek speak- Sierra might be leaving this IPA unfiltered, and adding a little yeast extra yeast to condition in the bottle.  Counter pressure is adding a little extra CO2 to the bottle and corking it.  You could truly pop a cork and have a celebration.
Again, these aren't commercially available.