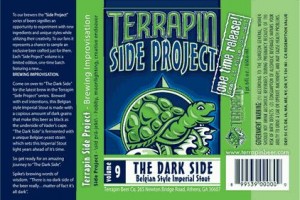 Fans of the Terrapin's side project series, your wait for a new release is over.  The follow up to # 8 — Pumpkinfest is shipping now.   Dark Side is what #9 has been dubbed, and is the last side project release for 2009.
Dark Side is a Belgian Imperial Stout.  While not officially a "style" of beer per say, Dark is born out of a trip to Belgium.   Brewer Spike Buckowski of Terrapin, recently took a trip over to Belgium, land of great beer.  While there, he got to tour Westmalle — one of very few Trappist Breweries in the world.  Spike was fascinated with the yeast havesting.  The idea to brew a trappist yeast based beer was born.  (Want to know more about Trappist?  Click here .)
Thus, here comes Dark Side.  Described by Spike as Darth Vader meets Pink Floyd.  This Belgian Imperial Stout has Belgian chocolate in the flavor, roasted grains, with hints of smokiness in the finish.   Bold malt and yeast are a goal here, with hops added but intentionally subtle.
Ingredients include-
Malts — Two Row, Crystal, Chocolate, Black, Roasted Barley.
Hops — Pilgrim, Golding
ABV — 8.5%
These 22oz bottles are en route to the distributor, and will be available by the end of the week.
First taste in Atlanta will occur TONIGHT at Octane Coffee on Marietta Street (5:30 pm) thanks to Hop City.   Tasting is free, and includes Terrapin's Dark Side, Wake & Bake '09, and Hopsecutioner.
Bottle and Tap Sightings soon!