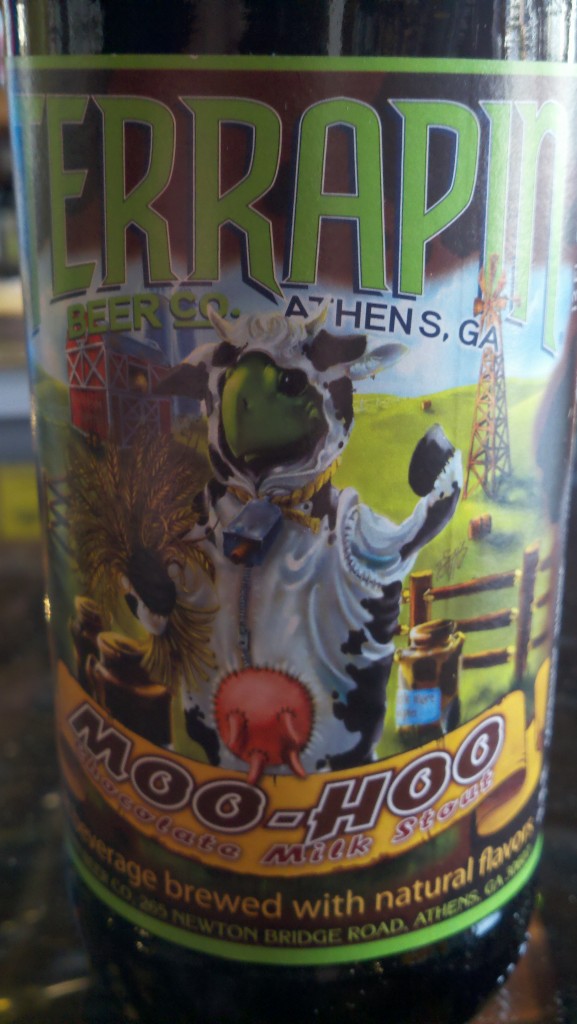 It's here! After what seems like too long a wait, Terrapin Brewing's "Moo Hoo Chocolate Milk Stout" is here!
Moo Hoo joins the seasonal release series by Terrapin, along side Sunray Wheat, and Pumpkinfest.  This chocolate milk stout is made with real chocolate, chocolate malt, and oats to create a nice, silky, chocolaty mouthfeel.   The cocoa nibs & shells come from Olive and Sinclair Chocolate Company in Nashville, Tennesee.
Style: Milk Stout/Sweet Stout
Hops: Nugget, Willamette
Malt: 2 Row Pale, Flaked Oat, Chocolate, Crystal 85, Carafa III Special, Roasted Barley
Choco Nibs, Coco
Taste Expectations: Sweet and roasty malts, with chocolate & cocoa shining throughout. This sweet stout is milky, and smooth – almost creamy.
Availability: 12oz/6 pks.  Draft.   Winter seasonal.  Inaugural release.
6% ABV
Looking for this? Tower in Buckhead.  Green's Beer. Hop City!